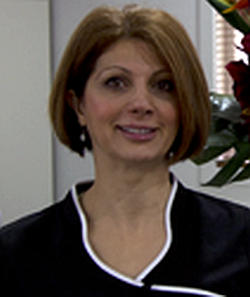 Dr Rand Razaq
BDS (NZDREX 1999)
Dental Surgeon
Rand moved to New Zealand in 1997 and got her NZDREX in 1999. Rand had worked in several practices until 2003, when she got the opportunity to join the well established Balmoral Dental Centre as a partner.
Rand is now the sole owner and director of the Balmoral Dental Centre.
Rand has a passion for the Dental Centre and enjoys learning the new trends to make your visit more comfortable as well as enjoyable.
Rand is an executive member on the Auckland Dental Association as well as an Auckland board member on the NZ Dental Association. Rand was one of the first establishing members of the NZ Academy of Cosmetic Dentistry, when it was established eleven years ago.
Rand has gone to the States and attended conferences with the American Academy of Cosmetic Dentistry in Nashville and San Diego.
Practice & Philosophy
I have a real passion for Dentistry and make it a priority to understand new techniques and technologies that can be adopted into my practice.
I keep in the centre of my mind this simple question,
"How can I make your visit more comfortable and give you a stunning smile?"
To achieve this goal I have created a very modern practice room. For example, with a more versatile X-ray machine, small camera and a TV screen we can see clearly the health of your teeth, before and after treatment. The outcome of seeing ones own teeth & mouth increases confidence in decision making and treatment. I also wear magnifying lenses as this greatly increases precision when I am working, a stunning smile requires that only areas needing treatment are addressed. To make you more comfortable I also provide blue-tooth headphones with a wide selection of music and most importantly I communicate with you to ensure you are comfortable as possible and know what procedures are being performed.
Rand enjoys fitness and outdoor activities and is currently a member of Ultimate Training and Get Running group. Rand believes in healthy body, healthy mind
For a better life smile, feel free to contact Rand with your dental health enquiry today.

Call (09) 630 0205 and book with Dr. Rand Razaq